Dr. Gumm provides effective, minimally invasive gum disease treatment to help you keep your teeth and save your smile.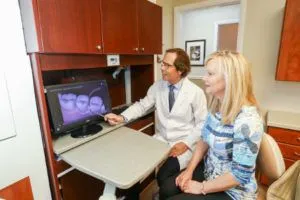 Dr. Blayne Gumm is a board-certified implant dentist
Effective, Minimally Invasive Treatment for Mild to Severe Gum Disease
Gum disease is an insidious disease that can cause great damage to a person's oral health if not treated. When gum disease gets to an advanced stage, it may even result in the loss of one or more teeth.
Dr. Gumm has extensive training in periodontics—the dental specialty of the treatment of the gums. He will effectively remedy your condition using state-of-the-art technology. If necessary, he can even perform gum grafting, bone grafting or dental implant treatment to replace any damaged teeth or tissues that have been lost, restoring your entire mouth to full health.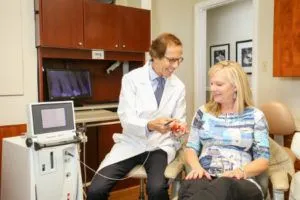 Our Millennium Periolase® is an advanced dental laser that selectively targets diseased tissue.
Comfortable Treatment with State-of-the-Art Dental Laser
Our Millennium Periolase® is an advanced dental laser that selectively targets diseased tissue.
Advanced gum disease would normally require surgery, but Dr. Gumm can often use his Millennium Periolase dental laser to provide gentle, minimally invasive treatment. The Millennium Periolase is the most advanced laser used in dentistry today and was specifically developed for gum disease treatment. It selectively eliminates diseased tissue and leaves healthy tissue unaffected.
Laser treatment is much less invasive than traditional surgery. This makes for a quicker recovery with much less discomfort—patients can usually return to their normal routine as early as the very next day.
Benefits of Laser Gum Disease Treatment
No scalpels or sutures needed as part of the procedure.
Laser gum disease treatment is more comfortable both during and after the procedure than with a conventional surgical approach.
Laser gum disease treatment involves less loss of gum tissue and/or risk of gum recession as a result of treatment compared to traditional procedures.
The minimally invasive nature of the treatment makes it safer for patients with bleeding problems and other health concerns.
Recovery time after the procedure is much shorter than with conventional surgery. Most people can return to work the next day after treatment.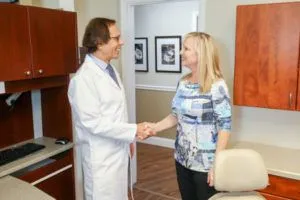 $59 New Patient Exam Special*
To learn more about laser gum disease treatment and how it can help you , you can take advantage of our New Patient Special. Your visit will include:
Comprehensive oral exam
Digital X-rays
Consultation with the doctor
*Offer expires May 12th.
What Is Gum Disease?
Gum disease is a bacterial infection and inflammation of the gums that becomes worse over time if it is not treated. The bacteria that cause gum disease irritate the gums, causing them to withdraw from the teeth and creating spaces known as "pockets." The deeper the gum pockets become, the more aggressive the species of bacteria that are able to lodge in them.
Toxins from the gum-disease-producing bacteria eventually start eating away the surrounding gum and bone tissue. When enough gum and bone has been damaged, the teeth lose their support, and they may eventually become loose or
Dr. Gumm provides ample education about gum disease as part of the treatment process
Do You Have Gum Disease?
People are often unaware that they have gum disease, because their condition may not cause any pain until it has progressed to an advanced stage. Other symptoms of gum disease include the following:
Bleeding gums
Red and swollen gums
Gums that have pulled away from the teeth
Persistent bad breath or bad taste in the mouth
Loose teeth
Any change in the way your teeth fit together
Gum recession
Possible hidden problems due to a history of smoking
If you are experiencing any of the above symptoms, we recommend that you come in to see the doctor and get your gums checked as soon as possible.