Dr. Gumm provides skilled and experienced dental implant treatment to restore your smile.
A Nicer Smile, Better Chewing Power & Healthier Teeth with Dental Implants
Dental implants look, feel and act like real teeth
Due to their many advantages, dental implants are considered to be the modern solution for tooth replacement. Implant-supported teeth are strong, stable and beautiful. After treatment, many patients cannot even tell the difference between their implant teeth and their natural teeth. Implant-supported teeth can be brushed and flossed just like real teeth, and with proper maintenance and care, they can last a lifetime.
Who is a candidate?
In the past, patients with extensive bone loss from missing teeth and patients that suffered from certain medical conditions were not always candidates for dental implant treatment. Thanks to modern implant technology, almost everyone who needs teeth replaced can enjoy the benefits dental implants have to offer. Dr. Gumm has treated many different types of patients and can perform whatever procedures are necessary to make dental implant treatment successful.
Dr. Blayne Gumm is a board-certified implant dentist

Dr. Blayne Gumm—Experienced, Board-Certified Implant Dentist
Dr. Gumm is one of only about 500 dentists in the United States who are board-certified in implant dentistry. After earning his dental degree, Dr. Gumm pursued extensive training in dental implant treatment, including a Graduate Master's Program in Surgical Studies. After completing a demanding series of written and oral examinations, Dr. Gumm was awarded the status of Diplomate of the American Board of Oral Implantology/Implant Dentistry, one of the highest honors an implant dentist can receive. Dr. Gumm is also a Master of the International Congress of Oral Implantologists and a Fellow of the American Academy of Implant Dentistry.

Dr. Gumm has lectured on dental implants at universities and dental meetings. He is versed in all aspects of implant dentistry and can provide patients with full, comprehensive treatment in his own office.
---
Thanks to Dr. Gumm's training and experience, you can receive full dental implant treatment in our comfortable office.
Full Implant Services in the Comfort of Our Office
Thanks to Dr. Gumm's skill, training and experience, patients can receive full dental implant treatment in one office—from the initial consultation to the final, beautiful, new implant-supported teeth. Even if you require a bone or gum grafting procedure as part of your implant treatment, Dr. Gumm can take care of it without having to refer you to another practice.
Getting full treatment in one office is not only more convenient, it also means that one doctor is in complete control of your treatment. This can make for a more aesthetic and better final result.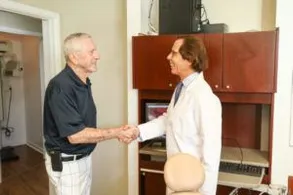 Thanks to Dr. Gumm's training and experience, you can receive full dental implant treatment in our comfortable office.
Complimentary Dental Implant Consultation
To learn more about dental implant treatment, come and see us for a free consultation. Your visit will include:
Oral exam
Digital X-rays as needed
Learn more about dental implants
Dr. Gumm preplans the treatment using advanced 3D imaging technology.
State-of-the-Art Technology & Precision Planning
Key to successful dental implant treatment is the use of state-of-the-art imaging technology for diagnosis and treatment planning. Dr. Gumm utilizes a dental 3D scanner to view jawbone and soft tissues in 360 degrees, which enables him to carefully plan the location and angle of each implant. When needed, he uses a computer-generated surgical guide to assist him in the accurate placement of implants.
Dr. Gumm's meticulous planning and use of advanced technology makes implant surgery a smooth and efficient procedure.
Dr. Gumm explains the treatment in detail..
Friendly & Comfortable Care
Patient comfort is a top priority at our practice. Dr. Gumm is very skilled in putting patients at ease during treatment, and he explains procedures on detail so that you will know what to expect. Our friendly staff will offer you pillows and blankets for added comfort in the chair, as well as a hot wrap for your neck. If you are very apprehensive of dental procedures, you can also receive an oral sedative to help you relax during your procedures.
Benefits of Dental Implants
Implants let you talk, chew and exert pressure just like with natural teeth.
Implants are the strongest and longest-lasting solution for tooth replacement. With proper care, they can last a lifetime.
Implants don't require alteration to the structure of adjacent teeth, as with dental bridges.
Implant-supported dentures have no false palate, so you can properly taste your food.
Implants help preserve bone in the jaw. They help prevent the wrinkled, aged look that can occur with dentures and missing teeth.